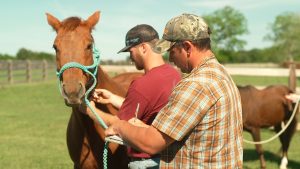 Blue Equine LLC, has several Veterinarians that we find exemplary in their field and often consult on our equine athletes. We are happy to work with any veterinarian that the equine owner wishes or we can direct the consultation to a number of professionals some of which are listed below.
Josh McNeil DVM, Dark Horse Equine, a mobile veterinary practice.
Dr. McNeil is a graduate of Mississippi State University Vet School and finished his Internship in Equine medicine and Surgery at the same institution.
Ryan Byrd DVM, Mobile Vet Services LLC,